"

"The look of these panels will set the standard for operable walls in the future"
An Operable Wall is a very versatile product designed to make the most of your limited Office space. The acoustic panels will move with ease within the top track and has no unsightly floor tracks or guides etc.
Neat and clean, operable walls should complement the room. They should provide the acoustic qualities of a fixed wall and be fitted with quality seals and closures.
Our operable walls use proven tracking and trolley systems to ensure that they stack correctly and close smoothly.
All operable walls installed in Australia by Spacial Concepts staff automatically qualify for an industry leading warranty package.
Panels
Spacial Concepts manufactures their Operable Wall System in two models according to the sound rating required (70 Series & 100 Series). There are 2 options for the perimeter frame.
Standard
Stiles wrap smoothly around panel edges. The look is neat & clean, as each stile is only 10mm wide. Board edges are totally protected even in the toughest environment.
Overlay
Beautiful looking panels with completely concealed perimeter frames. The eye flows across the wall without interruption. Ideal for prestige locations and where rough handing is less likely.
Acoustics
"In my experience, I don't think I know of a business that has developed and tested its operable walls with as much knowledge of acoustics and the performance of its products"
Graeme Harding, Fellow of the Australian Acoustical Society
EFFECT*
LAB STC
TYPICAL USEAGE
Mutes normal conversation
34-38
Primary Schools
Normal voices may be intelligible
37-41
Church halls, Quite meeting rooms.
Normal voices barely intelligible
40-44
Typical meeting rooms, Schools.
Normal voices unintelligieble
43-47
Boardrooms, Conference centres.
Raised voices barely inteligible
46-49
Hotel functions rooms
Major function noise controlled
46-49
Convention centres
*Assumes peripheral leakage is minimised.
What do you need?
It is impractical to cut out all sound transmission so a good criterion is "To limit transmission to a level that is not longer distracting".
Aim for a sound rating in balance with the acoustics of the surrounding structure. Even with a perfect operable wall, sound will still seep through ceilings, carpets, aircon, ducts, etc.
Controlling this peripheral leakage around the operable wall (for example with baffling above ceiling) will do a lot to improve the overall performance of the installation.
Similar activities require less sound isolation than a quiet activity next to a noisy one. Amplified sound is more difficult to suppress. General background noise helps reduce distraction.
Avoid specifying far high ratings than needed. High STC operable walls are costly. See "Laboratory vs. Real Life"
Myths, Lies & Decibels!
Don't get hung up over one or two STC's. Some manufacturers play numbers game "Mine is 1 STC more than yours!". The human ear can't discern a 2 STC difference, and even laboratory results can vary by 1 STC depending on the conditions.
Beware of U.S. results. They can be 10% higher than tougher Australian testing. Also be aware that STC is a more stringent measurement than simple, speech frequency averages.
Ensure test results are reasonably recent and are from reputable laboratories like RMIT or CSIRO. Laboratories with non-standard testing protocols do exist both in Australia and overseas.
Thin light panels are unlikely to be as effective as thicker panels. There is no magic to acoustic performance and weight is a key factor. Check the test reports to be certain.
Our Testing
It's very good and it's been done recently at the RMIT, one of the Australia's leading laboratories.
All tests have used sweep seals alone at the top and bottom panels, even for the highest STC test (demonstrating it is not necessary to adopt retractable seals to achieve the sound rating required.)
Spacial Concepts offer 36 STC through to 52 STC. Our ratings are about the highest achieved in Australian tests.
Laboratory vs. Real Life
Acousticians measure the performance of an operable wall in laboratories (LAB STC). In real life even a perfectly installed wall is unlikely to perform as well due to the deficiencies of the building. Buildings inevitably have peripheral leakage through airconditioning ducts, carpets, ceiling tiles, etc. which can reduce the field STC by 10%-15% below the LAB STC. Be aware of this when specifying. In critical situations specify both a LAB STC and a required FIELD STC or Noise Isolation Class (NIC). Please contact Spacial Concepts if you need advice on this.
Stacking
Where and how you want the panels to stack?
Spacial Concepts utilises a number of proven tracking and trolley systems. Choice of the most suitable is a specialised issue and depends on stacking needs, panel details and the track layout. The specification below focuses on the stacking requirements and we will advise the best suited track and trolley system.
Centre Stack
A Simple straight track. Each panel is suspended from a central trolley and typically hinged in pairs. Often closed by a jamb hung pass-door.
PROS:
Economical, quick to set it up. Beam work is straight forward.
CONS:
Panels have to remain stacked on the main track.
Side Stack
Single panels are suspended from 2 carriers at the top corners of each panel. Panels stack with one carrier remaining on the main track and the other in the side track.
PROS:
Single panels are easier to move. Flexibility to stack to the side of the track and to negotiate junctions.
CONS:
Beam work is needed over the side track.
Remote Stack
Panels have omnidirectional carriers to negotiate X, L or T junctions and panels are stacked completely away from the main track, sometimes in a cupboard or recess.
PROS:
Panels can be stacked away form the main track, useful in complex layouts.
CONS:
Extra tracking and beamwork required.
Inexperienced users can get panels out of order on large installations.
Closures
Walls need a method of acoustically opening & closing the system.
Door panel
Suitable on normal height walls. The last panel is a full height door hinged off the fixed jamb or the prior panel. Doors are normally located at one end of the wall. Typical width is 500-900mm.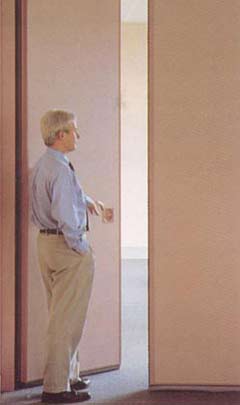 Pivot Panel
For centre stack systems only. The single end panel pivots shut and is held in place by 2 latch/handle assemblies. Usually located at the stacking end of the wall.
Expanding Panel
This panel has an over-sleeve that can be expanded sideways to lock the wall in place. This is operated by a removable handle in the face of the panel. Usually located at the stacking end of the wall.
Finishes
Panels can be finished in almost any surface that can be bonded such as vinyl, veneer and fabric. Panels can also be fabricated using laminate board or supplied ready to paint. Some interesting ideas are show below. (Note: matching powdercoated aluminium trim is a standard, no-cost option.)
Brush Box veneer, vinyl and fabric overlay panels at Metway Suncorp. Architect: DCP
Hoop Pine Standard at Cairns Convention Centre. Architect: Cox Rayner.
Beech, Queensland Red Cedar and fabric overlay at Department of Mines & Energy. Architect: QPM
Accessories
Various accessories allow you to optimise the value of an Operable Wall. Popular options are shown below.